LibSearch
Search books, articles, journals and more
You can use LibSearch without logging in. But in order to use the LibSearch personalised features, you need to have a LibSearch account.
Search in and beyond the UM Library
More than 1,2 billion sources
Both digital and physical resources
LibSearch subject guide
1.
About LibSearch
In LibSearch, you use one search to browse the library catalogue and the metadata of dozens of publishers, such as Kluwer, Elsevier, Springer, EBSCO and Wiley.
LibSearch also allows you to search the catalogues of (inter)national libraries, including the Dutch national catalogue, PiCarta.
How to use this subject guide
Use the search box to search within this subject guide or use the navigation to browse.
Create a deep-link to a specific section by clicking on the # next to the section title.
Generate a PDF for printing or sharing purposes by clicking on the PDF-icon at the top right of this guide
Use the feedback options below each section of this subject guide to let us know if it was helpful, or report missing info or errors.
Feel free to contact one of our subject specialists.
2.
Your LibSearch account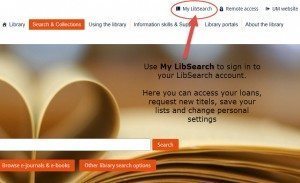 Sign in to LibSearch to use personalised search functions, like reserving and requesting books and save your search results in lists.
You can also manage your loans via your LibSearch account.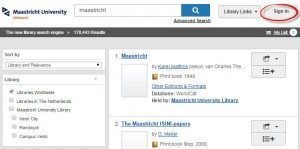 Sign in to LibSearch on the top right menu of the Online Library and the LibSearch results screen.
Activate account or request a new password
To activate your LibSearch account or request a new password, you need your 6 digit UM/azM card number (see image).
Step 1
Click on the button below and open the request window. Fill out your 6 digit card number and press "Request new password".
A message with an activation link will be sent to the email address registered with us. This is most likely your Maastricht University or azM/MUMC+ address. Follow the link in the mail for Step 2.
Step 2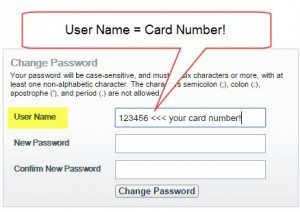 The activation link in the email will open a page with a form (see image).Fill out your card number (= User Name), and choose your password.
Fill out your card number (= User Name), and choose your password.After activation or password change you can close the tab/page and go on at (or get back to) this page to:
After activation or password change you can close the tab/page and go on at (or get back to) this page to:
Start your search in the search box at the top
Go to My LibSearch  for loans, lists and reservations
You can access My LibSearch directly from the top right menu of the Online Library and the LibSearch results page (see the first part of this section).
No activation email or other activation issues?
For all your questions and problems regarding activating your account and signing in to LibSearch we have a specialised support team in place.
In case you don't receive the activation message in your mailbox within a few minutes after your request, you might check your spam folder first.
To contact our LibSearch support team for help:
3.
Borrowing and reservations
In order to borrow or reserve a book
Log on to LibSearch with your card number and password.
  
Are you a first-time visitor? Please follow the steps under Your Account to create and activate your personal account.
  
Click the title of the book in your search overview
    
Under Availability, under Maastricht University Library, you can see where you can find a copy in our library, and if the book is available for lending or for reference only.
     
If the book is available you can go to the library and pick it up yourself. You can place a hold on a book, but only if it is on loan, or in the closed stacks.
     
To place a hold: click the button Place Hold. You then have to log in with your LibSearch password.
   
Click the Place Hold button, choose your pick-up location and submit. You will receive an email as soon as the book is available.
If a book is not available in our library, under Availability you can see a list of Dutch Libraries that do have the book in their collection.
With the Request Item button, you can request the book via PiCarta with your Inter Library Loan (ILL) account.
4.
When to use LibSearch
You can use LibSearch to find an article or a book you already know, but also to find literature about a specific topic, or to quickly get inspiration about a topic.
For searching UM master theses, you have to use a separate catalogue.
To do a comprehensive literature search, we strongly advise you to use our subject specific databases.
These databases provide specialised options, not offered by LibSearch. For example, the option to save searches, using a thesaurus or citation searching.
5.
How to use LibSearch
Basic Search
Enter your keywords in the search bar
When you use multiple keywords, LibSearch connects them by adding 'AND'.
  
LibSearch uses a 'keyword index' for finding results
The LibSearch index includes author, title, ISBN, publisher, topics and year of publication.
   
Use Boolean operators (AND, OR or NOT)
Use capitals for the operators (e.g. communication OR media).
  
Search for combinations of words
When searching for words you want to appear in a specific order, put the words in quotes, e.g. "Positive psychology".
    
How to search for an exact phrase in title
When you quickly want to find items like the e-journal "Nature", type ti= Nature. The first result is the one you are looking for. You can also use the advanced search option below the search box. Use the filter option "title phrase", fill in "Nature" and click on the search button.
  
Truncate with *
For example, when using market* you will find results that contain words like market, markets, marketing, marketplace, etc. There have to be at least three characters before the *.
  
Use wildcards to replace a character
# for one character. For example, wom#n will find results that contain woman and women. There have to be at least three characters before the #.
? for more characters. For example, re?tion will search for reaction, recreation, refraction, relaxation, etc.
  
Filter your search results
You can always filter your search results using the options/filters on the left side of the screen.
  
Scope of your search
By default, the setting for the results presentation is "Library and Relevance".
This means that the order of the presented search results is based both on the number of times your search words appear in the keyword index, and whether the results are from the UM collection, including articles you can access online. You can change this on the top left of your results screen, under "Sort by".
Advanced Search
You find the Advanced Search beneath the search bar
In addition to refining the search terms, it is also possible to define the databases you wish to search and the type of publication (book, certain journal volume, etc.).
If you want to search for publications in one or more specific databases you can check these under "All databases".
   
Non-default databases
In the Advanced Search, you can mark the non-default databases to search them. They are not in the list of default databases because adding them will significantly slow down the search.
It is important to know that not all databases offered by the UM Library are covered by LibSearch. Some publishers don't want their journals, books or databases to be indexed by other parties. This happens particularly in the field of law.
Good news: Kluwer Navigator has been indexed in LibSearch!
6.
How to get the full text
Access Online button
The Access Online button next to a search result will lead you directly to the full-text of most articles.
The Access Online button is also used for links to tables of contents of books and other additional information.
  
Availability information
When you click the title of an article, you see more information about the links under Availability. You can, for example, see which publishers/platforms give access to the full-text.
When the Access Online option doesn't give the desired result, you can use this option to find an alternative link.
   
Journals and newspapers
Please note, LibSearch doesn't make a distinction between journal articles and newspaper articles. In LibSearch they are both 'articles'.
If you don't want newspaper articles in your search results, you can mark the option 'Peer Reviewed' at the left side of the screen, to limit the search to peer-reviewed articles only.
6.1.
What if the online item is not available?
It can occur that you do not gain access to a specific item, even though you should be able to.
If this is the case, please let us know as soon as possible. We will try to solve the problem.
6.2.
What if I can't access a specific journal or article?
7.
How to get an overview of e-journals and e-books
Almost all of our e-journals are available in LibSearch through the search field.
As an alternative, you can use the e-journal list or e-book list.
8.
How to use Editions and Formats
After your search, you can manually change the results by clicking on 'editions and formats'.
LibSearch shows the edition which is 'most widely held'. However, this is not necessarily the most recent one. Go to the details and click Editions & Formats to see which editions are held by the Maastricht University Library. Other formats (i.e. book/ e-book/e-journal) are shown here as well.
9.
How to find UM master theses
UM master theses are available via a separate service: UM master theses.
Theses of UM students are not available in LibSearch.
10.
LibSearch video tutorials
How to search
How to borrow
How to renew loans
Contact & Support
For questions or information, use the web form right to contact a LibSearch specialist.
Contact a LibSearch specalist