Why use the Lean Library Access extension
When you browse and search the internet for articles, journals or databases you may find content licensed by us. However, if you are not on campus or not connected to the campus network, the website you visit does not know you have a UM account and will not give you access to web pages or publications. Or worse, asks you to pay for access (paywall). In these cases, the Lean Library Browser Extension will automatically show you a notification and give you access to the licensed content offered by the library.
What does the Lean Library browser extension do?
1. Simplified browser access
Quick access to digital content provided by Maastricht University Library. Spend less time searching for the PDF or other full-text information.
2. Alternative options
When you hit a paywall, or UM does not have a license for the website you are on, Lean Library checks automatically for an alternative (licensed or Open Access) and will provide a link to the content.
3. Library assistance
For selected web pages, we will display a support message to help you. We also provide a link to quickly get in touch with our support team.
How does it compare to other off-campus services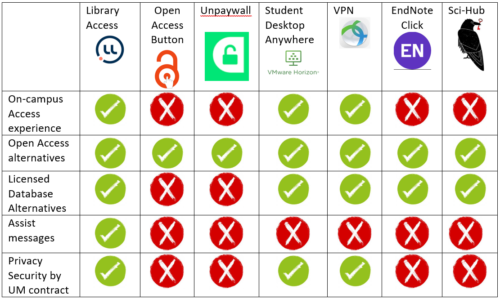 How to install the Lean Library Access extension
Step 1. Go to leanlibrary.com/download
The following browsers are supported:
Google Chrome
Firefox
Microsoft Edge
Opera
Safari
iOS
Step 2. Install the extension
Step 3. Select your institution
After installation, you select Maastricht University as your institution in the settings and use your Maastricht University login credentials to activate the extension. Choose "Skip the popup and automate my access" to save your connection so you only have to log in once during your session.
How to use the Lean Library Access extension
Login
If you are off-campus or using wireless access and the browser extension is activated and you load a webpage from a source we subscribe to, you will be prompted with the single sign-on login screen you know from other UM online services. Choose your institution (UM or MUMC+) and log in. Your login will be kept active as long as your browser is open.
Access and alternatives
If your browser extension is activated and you load a page for which we provide services or content, the Lean Library icon in your browser toolbar turns green.
This means that a website with a paywall for PDF downloads, like ScienceDirect, will show you download buttons as if you were on campus.
If you're on a page where a full-text link can't be provided, Lean Library will also turn green and look for an alternative source. If a link is available Lean Library will show one of the following messages:
1. Article available elsewhere
By clicking on "Access Article" you will be directed to our LibSearch page that provides access to the full text.
2. Open Access version found!
By clicking on "Get Article" you will be directed to a page where you can access the Open Access version of the full text.
Assist messages
We will display an assist message when you're on a page where this extra information can help you to make use of the services provided.
Please note: the Lean Library browser extension is not available for Android.