OA Journal Browser
Open Access @UM
Start your search for journals
About the Journal Browser
The Journal Browser contains all Open Access journals and the journals Maastricht University subscribes to. 
For every journal you can find information about Open Access deals and Article Processing Charges (APC) Maastricht University researchers can make use of. We also added information about journal reputation (Impact) and Green Open Access (Sherpa/Romeo).
Open Access APC discount
Here you can find out how high the discount on the Article Processing Charges (APC) will be for a specific journal. The corresponding author (or sometimes the first author) has to be affiliated with Maastricht University.
The Association of Universities in the Netherlands (VSNU) (UM included) has negotiated deals with several publishers, as a result of which no Article Processing Charges (APCs) are due (100% discount). Local agreements between Maastricht University Library and publishers are also included in the browser.
Open Access (Gold)
A Gold Open Access journal makes its complete contents available to readers at no costs. This is also known as a full Open Access journal. Depending on the journal, an author may have to pay APC.
Quartile
Each journal with an Impact Factor can be placed in a quartile Q1 to Q4 according to the position it has in the Impact Factor distribution of the subject category. When looking for a journal to publish in, good practice is to first consider topical fit (choose a journal that best fits your topic/publication type/audience) and then look for a Q1 or Q2 ranking.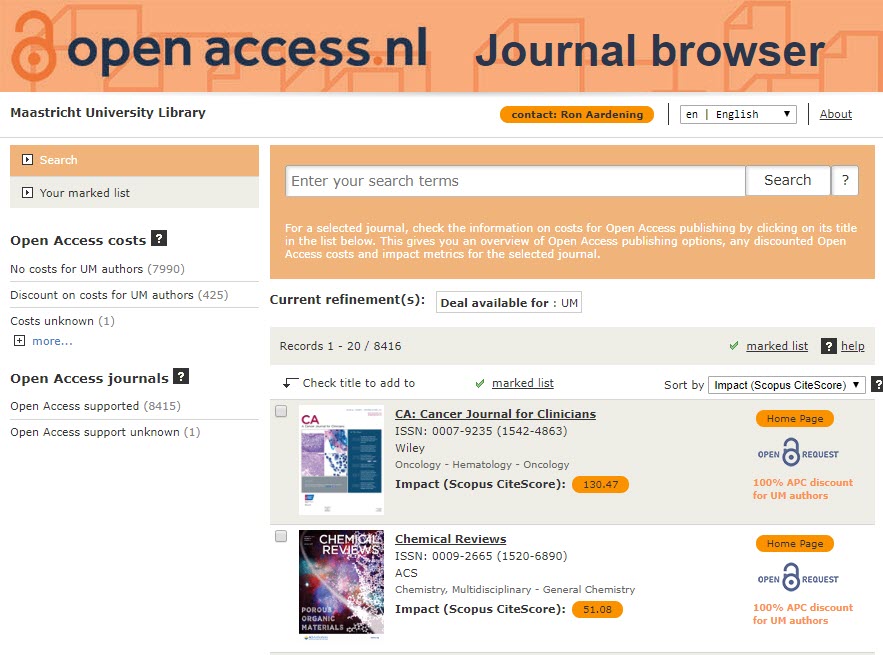 Stay up-to-date
Join our general Library Update and/or our dedicated Research Support mailing to receive updates about services, support, apps and tools, practices, training, and trends with a focus on research.
Contact & Support
For questions or information, use the web form to contact a Journal Browser specialist.
Ask Your Librarian - Contact a library specialist