Access licensed resources online wherever you are
University Library
Remote access to licensed resources
Maastricht University students and staff members, as well as MUMC+ staff members have off-campus access to protected services and resources licensed by the library, like databases, e-journals and e-books.
We provide different solutions for remote access:
1. Library Access Browser Extension 
When you browse and search the internet for articles, journals or databases you may find content licensed by us.
However, if you are not on campus or not connected to the campus network, the website you visit does not know and will not give you access to web pages or publications. Or worse, asks you to pay for access (paywall). In these cases, the Library Access Browser Extension will automatically show you a notification and give you access to the licensed content offered by the library.
Go to the Library Access Browser Extension service page for instructions and to download the extension.
For students and staff who need access to UM network resources, the university offers a dedicated VPN service for students (SDA) and for staff (VPN). Use this connection only if you need to access the UM network.
For access to licensed sources, please use the Library Access browser extension. Or access the sources via the library website.
2. Student Desktop Anywhere (SDA) – for students
Student Desktop Anywhere provides Maastricht University students with remote access to the student desktop facilities on and off campus.
This means access to the Online Library, your I: drive and applications with your own device, anytime, anywhere! Use your UM account to gain access.
3. Virtual Private Network (VPN) – for staff
The Maastricht University VPN – Virtual Private Network – connects your device safely to the university network. This is a service for UM staff working at remote locations.
After having installed and activated the VPN connection, your device will communicate with the Internet via the UM VPN server. Consequently, you can use your device as if you're on campus.
If you are off campus you'll need to log in with your UM-account in order to gain access to these manuals.The UM VPN is serviced by the ICT Service Center.
Follow this link to the ICTS manuals for more information.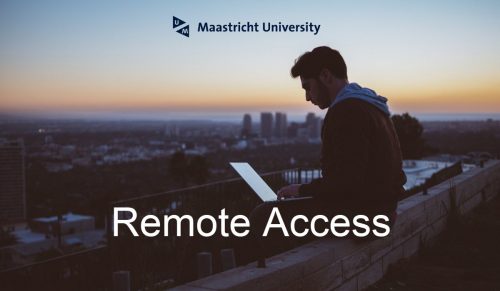 Page information
Short link: https://umlib.nl/remote-access
Updated: 17/09/20 by Ron Aardening
Feedback & Support
Use this form to contact a subject specialist.
Questions, Feedback & Support